Series FTY Vacuum Turbine Lube Oil Filtration & Dehydration Machine is specially designed for purifying various unqualified turbine oil (such as ISO– VG– 46, 32, 68, 100, etc.) from steam turbine system, gas turbine system & Fans, especially for serious emulsion turbine oil. It can quickly and efficiently break emulsification, separate water, gas, and particles from oil so that makes sure quality of treated oil to achieve new oil's standard, ensure whole turbine system work safely. Also it can purify low viscosity hydraulic oil and lube oil.
Features:
1. Special polymer materials as filter medium with the functions of breaking emulsification thoroughly, dewatering, removing particles.
2. Duplex 3D Stereo-evaporation technology, equips with unique and advanced dewatering, degassing components, can rapidly and effectively separate water, gas from oil.
3. With distinctive removing impurities technique filtering through double FH trapezoidal network and absorbing by high polymer material, this machine can make the ß3 equal or surpass 200 and make the cleanness lower grade 6(NAS1638).
4. Multi-stage precision filtration process remove large quantity of particles & impurities from the oil.
5. Efficient electric heating system, heating uniformity, less power consumption, safe, and reliable.
6. Double-safety liquid level sensor, pressure protective system to ensure machine operation easy and safely.
7. Adopt interlocked protective system, which connect oil pump, heater and liquid level sensor, avoiding blank heating, blank pumping, oil leak and electricity leak.
8. Can work online with stream turbine, gas turbine and hydraulic turbine.

Technical Specification: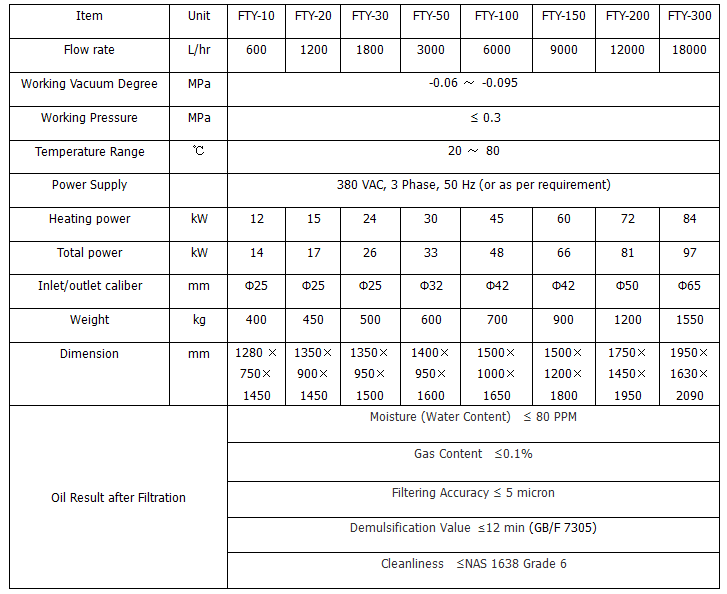 Note: 1. The dimension and weight will be changed with changing of technical specs.
2. All the specs can be customized according to client's requirements.