Description:
PO Series Portable Oil Filtering and Filling Machine which mainly deal with unqualified insulating oil, turbine oil, lubricating oil etc., is consist with motor-driven special gear pump and multi-stage filters for filtering dirty oils by removing various sizes of particles & impurities.
Small and flexible size, easy to operate and requires no filter paper and causes no contamination to the ground. It has a wider application than ordinary filter press and has a long lifetime.
Oil suction point is equipped with a coarse filter to protect pump, and prolong the service life of main two filters. filter precision can be adjusted and changed according to client's actual need. this machine can do precision filtering, it usually equips three-stage filters, also can equip four or five stage filters as per user's requirements.
Usages:
It is used for fluid of filtering impurities and oil transferring, such as transformer oil, hydraulic oil, lubricating oil, turbine oil.
Suitable for field portable assignments and aerial work.
Filtering the hydraulic lubrication oil system while oiling and oil pumping.


Features:
1. Compact structure, small volume, light weight, easy to carry and operate.
2. High Precision & Multi-stage Filters installed for removing various particles & impurities.
3. Filtration precision, the product specifications can be free to choose according to need.
4. Hi-Quality & Durable Oil Pump installed with long distance pumping capacity.
5. Explosion-proof type, PLC automatic type, Fully Enclosed type, etc. are available to design.
6. Can be designed to be equipped with oil storage tank, heater, trolley, full stainless steel materials, etc.
7. can be used as oiling machine for long distance and high-lift oiling works.
8. Pressure Gauge monitors the working status of machine and pollution levels continuously.
9. Steady & reliable operation, low noise.
Technical Parameters: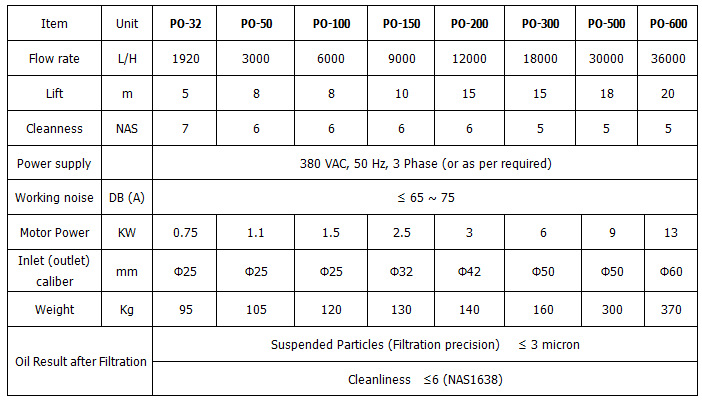 Note: 1. The dimension and weight will be changed with changing of technical specs.
2. All the specs can be customized according to client's requirements.
For more info, pls don't hesitate to contact us.