Description:
As is well known the Transformer plays an important role in the generation, transmission and distribution of electrical energy. Under load the transformer, dissipates heat and the insulating oil acts as a coolant as well as an effective dielectric.
Due to the highly hygroscopic nature of the transformer oil, it absorbs moisture from windings, which leads to gradual deterioration of dielectric strength. Also there are some waste impurities, gas contents in the transformer oil which destroy the oil's quality.
FUOOTECH Series ZYD double stages vacuum transformer oil filtration machine combines one high quality rotary vane vacuum pump and one booster roots pump which can speed up evacuation much faster.
Series ZYD transformer oil filtration machine has been specially designed for on site use to completely purify the insulating oils in transformers even when transformer power both below and above 110kV and altitude over 500 meters, as well as purify mutual inductor oil, switch oil and so on. Also it can inject the insulating oil into the transformers on-line and dry the transformer.
Series ZYD transformer oil filtration machine not only provides regular oil purification/filtration such as dehydration, degassing, drying and particulate removal, but also can reduces acidity, sludge, carbon deposits, sulfur, and other soluble oil decay products and improve physical & chemical properties comparable to new transformer oil.


Features:
1. Advanced Duplex 3D stereo-evaporation technology, efficient oil film sprayer, eliminating the liquid water quickly, increasing separating size and separating time to ensure the dry-level and dielectric strength improving greatly.
2. Double-stage vacuum system, high vacuum pressure and high flow rate, strong power of vacuum evacuating,
3. Advanced Multi-stage precision filtration system, stainless steel materials filtration combined with molecular adsorption filtering technologies
4. Besides the common vacuum oil purifier's function of dewatering, degassing and eliminating particles, this machine can regenerate the seriously deteriorated oil by removing the polarity materials, such as the deep oxides, free carbon in the oil effectively. It can make the seriously deteriorated oil reach to the normal index like anti-oxides, acid-alkali water-solubility.
5. UK G technology by which the trace water that is show chain, such as dissolved water, can be removed effectively.
6. Efficient high density electric heating system, heating uniformity, less power consumption, safe, and reliable.
7. Double-safety liquid level auto-controlling system with level sensors, pressure protective system to ensure machine operation easy and safely.
8. Especially applied to vacuum oiling and drying (Hot Oil Circulation / on-site Drying) for power transmission equipment which are over 110kV.
9. Adopt the most advanced interlocked protective system, which connect oil pump, heater, solenoid valve and liquid level sensor, avoiding blank heating, blank pumping, oil leak and electricity leak.
10. Low maintenance cost and time, simple operation and maintenance.
Technical Specification: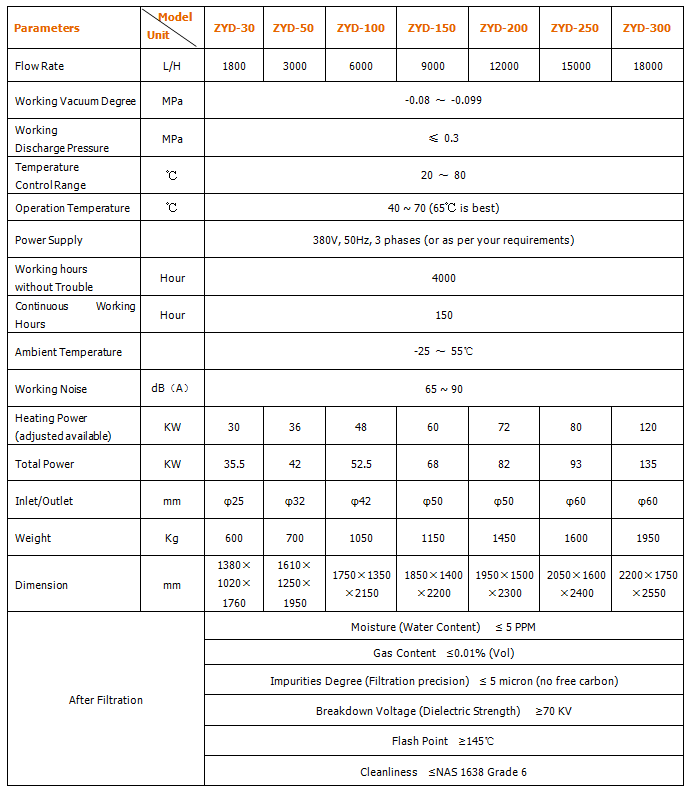 Note: 1. The dimension and weight will be changed with changing of technical specs.
2. All the specs can be customized according to client's requirements.

User's options:
1. Fully enclosed-type equipped with high quality steel doors and covers for protecting machine in outdoor operation (weather proof, vacuum proof, Water proof, dust-proof etc.), outdoor use.
2. Mobile trailer type is normally combined with fully enclosed type, mounted with vehicles to move the whole machine to outside fields for filtration works.
3. Moisture (PPM) meter, flow meter, dielectric strength (BDV) oil tester, P.L.C controlling system and other required parts can also be installed on the machine as per request.
4. Some consumable spare parts including filters and tools for 2 years' operation are also strongly recommended to clients for spare and replacement in the future.